Jiuzhai Valley is located in the Aba Tibetan and Qiang Autonomous Prefecture of Sichuan Province. The Aba Prefecture of Sichuan contains 5 National Parks including 3 UNESCO World Heritage Sites namely: Jiuzhai Valley National Park, Huanglong National Park and the Sichuan Giant Panda Sanctuaries (Wolong and Siguniang Shan).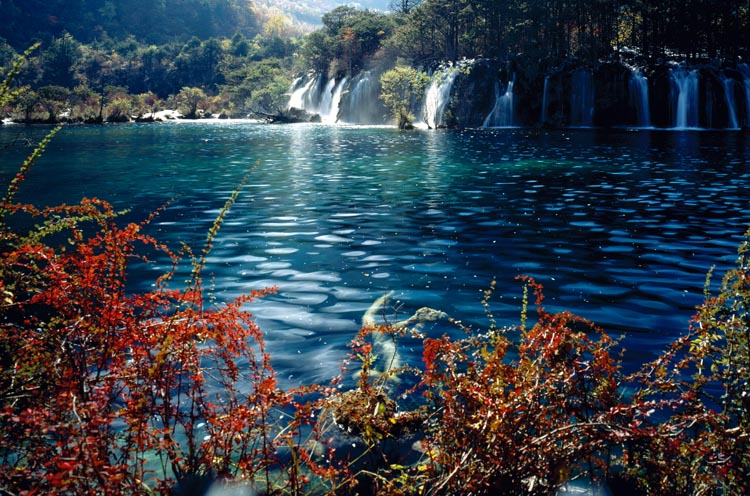 Suggestions for travel around the area from Jiuzhai Valley
Jiuzhai Valley to Huanglong:
        Huanglong National Park, a UNESCO World Heritage Site is only a 3hr bus journey from Jiuzhai Valley. Busses leave Jiuzhai Valley at 6:30am and 7:00 am every morning (May to October), taking 3 hours and costing 40 RMB.
        Through the work of nature over thousands of years of geological evolution, a magical valley as been formed there. Huanglong consists of numerous unique landscapes of geological landforms. Glacial revolution, terrane structure, stratum of carbonic acid rock, tufa water and climatic conditions such as artic-alpine sun light have created this world-famous travertine landscape.
        The biggest attraction in Huanglong are these accumulated travertine landscapes which form amazing blue and green ponds that have to be seen to be believed. Azaleas, maple leaves, and various grasses decorate the large and small ponds.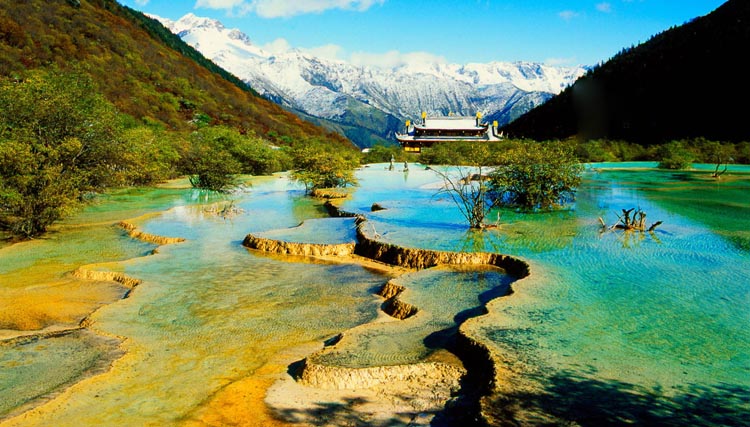 The total length of the travertine is 3.6km, dropping a total of 400m and it is thought to look like a huge golden dragon wheeling through the snow-capped mountains of the valley. The main landscapes are travertine banks, amazingly colourful ponds, travertine waterfalls and travertine caves.
        Also in the park is the 5,588m (18,333 feet) Xue Bao Ding Mountain, the summit of the Min Mountain Range. Legend has it that, if one is able to walk one circle around the golden dragon, all his personal prayers on the way will eventually come true. 
        The main body of water starts from the Ancient Taoist temple at the high southern end, flows down by the slightly newer Benbo Buddhist Temple and ends at the Xi Shen Cave Waterfall in the north with a length of 2.5km and a width of 30 – 170m. The colours of Huanglong's waters consist of various yellows, greens, blues and browns. Known to the locals as "Golden Sand on Earth", Huanglong's travertine bank is the largest and most magnificent in the world. It is also home to the world's most unique tufa formations.